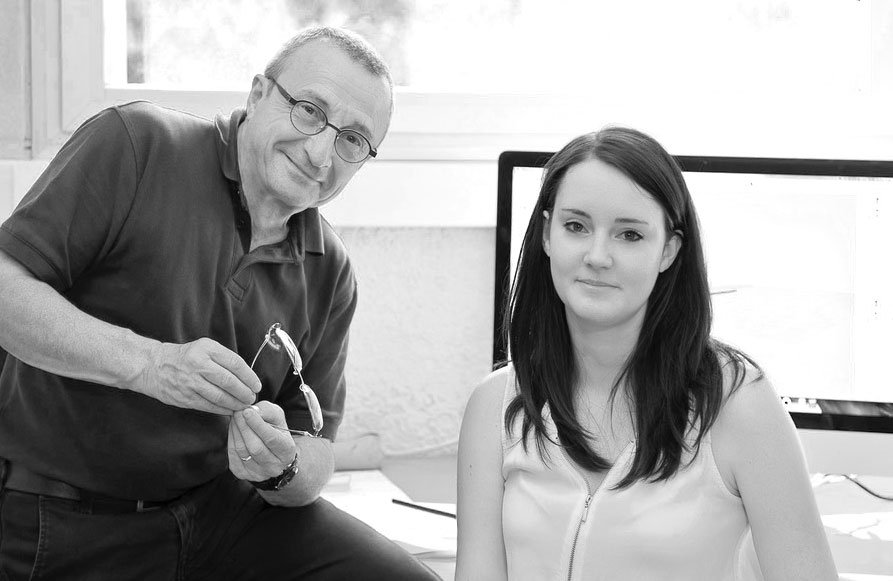 Gérard and Cécile Vuillet
Frame manufacturer since 1843
Since the beginning of the frame manufacturing company in 1843, five generations of Vuillet have followed. Today, the sixth generation is on its way. Cecile, daughter of Gerard is ready ta write a new page of the Vuillet Vega story.
Living heritage
Vuillet Vega is one of the oldest French eyewear manufacturer. It was the first eyewear company to receive the label "entreprise du Patrimoine Vivant" which rewards French companies for the excellence of their traditional and industrial know-how.

See frame VV2026-17
Local Production
The label, "Origine France Garantie", more demanding than "Made in France", is audited by VERITAS every year. It was created to give consumers information beyond suspicion about the French origin of the products and to guarantee their quality. The fact that all Vuillet Vega collections bear quality labels confirms their desire to manufacture their frames exclusively in France and their will to save employment and a local know-how.
Eco-responsive
Mindful of its ecological footprint, Vuillet Vega is committed to promoting a responsible frame manufacturing process by adopting a short production circuit, recycling materials and reducing waste.
Luxury and Sophistication
Vuillet Vega frames are available in several collections that stand out for their timeless refinement.
The Prestige range presents models that combine quality and technological know how for a result with finesse.
The Sign collection is distinguished by urban and colorful styles
Finally, the Prima Linea collection offers comfortable all-purpose models, available in several sizes.